Quality, Dependability, & Customer Experience
Over 35 years of MRO excellence
WE ARE AN INDUSTRY LEADING FAA AND EASA CERTIFICATED JET ACCESSORY REPAIR STATION LOCATED IN FORT LAUDERDALE SPECIALIZING IN:
Airmark Components is an FAA/EASA certificated 145 repair station established in 1985 to provide a broad scope of repair and overhaul services to airlines and maintenance facilities worldwide.
Advanced test equipment and experienced, knowledgeable technicians allow us to offer quality and reliability at a competitive price coupled with the highest levels of customer service and support.
Established. Specialized. Respected.
Airmark Components is an FAA/EASA certificated Class I, II, and III accessory repair station established in 1985. We specialize in the repair and overhaul of pneumatic, heat transfer, hydraulic, electro-mechanical, electrical and fuel/oil aircraft accessories. We offer the quality and reliability of an OEM and the superior pricing and quick turn-times of an independent repair station with a level of customer service that is second to none.
We provide the fastest turn-times in the industry.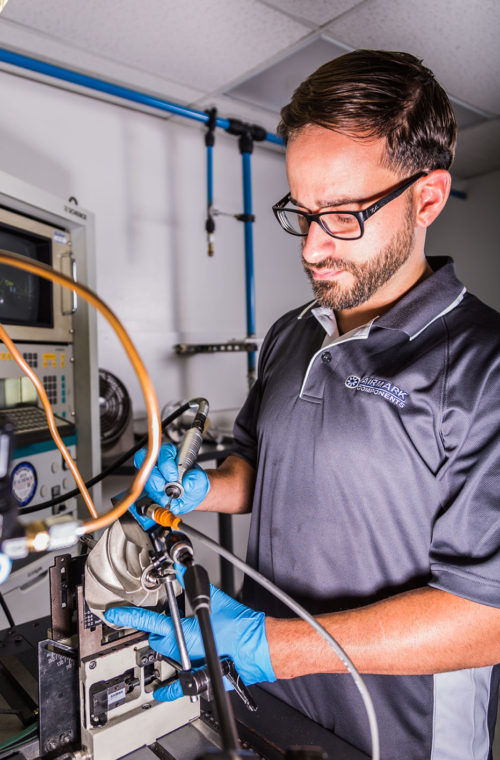 WHAT CLIENTS SAY ABOUT US
We bring a personal and effective approach to every
project we work on, which is why our clients love us and why they keep coming back.
At CTS engines we rely on Airmark as a go to vendor because of their world class Quality, Customer Support, and TAT. Airmark's innovative website allows us to track our repair orders in real time with just a few clicks. This paired with exceptional customer service makes working with Airmark a no brainer. I highly recommend Airmark and look forward to continuing to work with them for years to come.
Great people, great work environment, great company, great service, great quality work. Overall impressed with Airmark.
Working with the Airmark team has been an amazing experience. Their team is very knowledgeable with competitive pricing and lead times. Airmark's customer service is something other companies should strive for.
Best customer service that I've ever experienced!
Airmark as a whole is amazing! When sending in my repair to them I have no worries. I get immediate updates and status.
Airmark does a great job for us.  We love doing business with them.
Airmark Components is a wonderful vendor.  We aren't a major airline but we continuously get the 5-star treatment.
The prices are always reasonable and the work is always excellent.
Ready to experience an MRO like any other?