Quality, Dependability, & Customer Experience
Over 35 years of MRO excellence
WE ARE AN INDUSTRY LEADING FAA AND EASA CERTIFICATED JET ACCESSORY REPAIR STATION LOCATED IN FORT LAUDERDALE SPECIALIZING IN:
Airmark Components is an FAA/EASA certificated 145 repair station established in 1985 to provide a broad scope of repair and overhaul services to airlines and maintenance facilities worldwide.
Advanced test equipment and experienced, knowledgeable technicians allow us to offer quality and reliability at a competitive price coupled with the highest levels of customer service and support.
Established. Specialized. Respected.
Airmark Components is an FAA/EASA certificated Class I, II, and III accessory repair station established in 1985. We specialize in the repair and overhaul of pneumatic, heat transfer, hydraulic, electro-mechanical, electrical and fuel/oil aircraft accessories. We offer the quality and reliability of an OEM and the superior pricing and quick turn-times of an independent repair station with a level of customer service that is second to none.
We provide the fastest turn-times in the industry.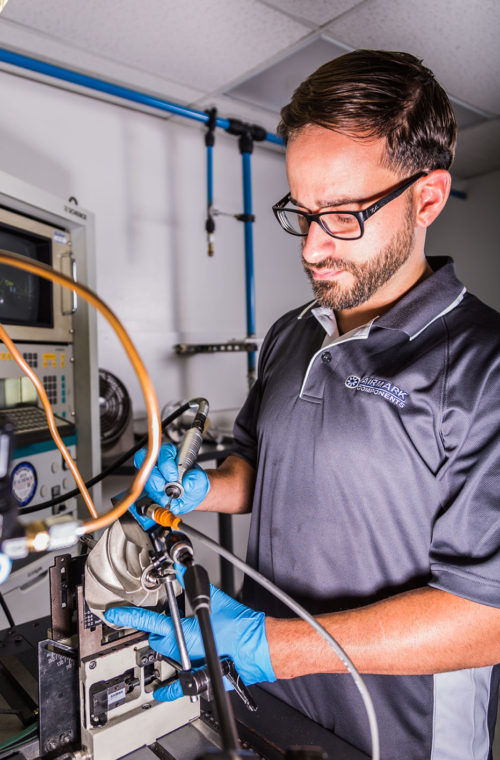 At Airmark Components, customer experience is at the center of our mission. We come to work each day with one goal in mind: keep our customers flying while providing the highest quality workmanship, fast turnaround times, and competitive pricing. Contact us today and see why Airlines and Maintenance Facilities around the world have trusted Airmark with their accessory components for over 30 years.
Airmark has some of the quickest turnaround times in the industry. AOG? No problem. We stock a large quantity of rotable components for exchange and outright sale to reduce turn times when it matters most. You can check our inventory and alternate parts to aid your urgent need and take that plane off.
Airmark's test equipment accurately simulates the on-wing conditions of most corporate, regional, and large commercial aircraft. Our state-of-the-art facility is conveniently located 3 miles north of Fort Lauderdale-Hollywood International Airport.
Our proprietary MRO Dashboard provides complete, door to door, unit tracking for all of your in-house repair orders. Visit the MRO Dashboard now to get repair status, approve quotes, check our inventory, or track a shipment.
WHAT CLIENTS SAY ABOUT US
We bring a personal and effective approach to every
project we work on, which is why our clients love us and why they keep coming back.
I recommend Airmark Components for all your Air Turbine and control valve repairs. The Quality of work is top-notch.
Great people, great work environment, great company, great service, great quality work. Overall impressed with Airmark.
The company is highly family-centric which makes working together a lot easier. Airmark is always willing to help.
Best customer service that I've ever experienced!
Diane Cavuoto
VP of Supply Chain at iAero Thrust
Ready to experience an MRO like any other?